In our harsh climate, gardens here in Scotland need to be built to be practically bomb-proof. Here are a few ideas and observations we have made over the years we have been designing and building gardens in Glasgow and Edinburgh.
It is worth mentioning that some materials that work in the south of England often don't stand the test of our weather up here in Glasgow and Edinburgh. Read the small print in the catalogues and paving brochures which often mention this (usually in very small text!) Cotswold walling stone soon crumbles and shatters after the freezing and thawing action during a Scottish winter or two and this applies to some types of porous paving too. The materials used here need to be able to withstand harsh frosty winters and lots of rain all year round.
Materials also need to be planned for the effects of weather, and some materials age well and can look even better in time, while other materials start to look tatty after a few years.
So let's go over some important elements of designing for the northern climate and a few commonly available and popular materials.
Porcelain has become popular over the last couple of years and is suited to both traditional styles (if it is laid to a random pattern) and contemporary gardens (laid to a linear pattern). For clients looking for an aged 'been there for ever' style, Porcelain doesnt work so well as it doesn't develop an aged look, and remains fairly fresh and new in appearance.
The big advantage of porcelain is that it is not very porous, so it is highly moisture resistant. This means that is requires less cleaning and pressure washing to remove the algae that is often characteristic of more porous materials, especially if the paving is situated in north facing positions. It is more costly than the more commonly used Indian Sandstone.
Below is a photo of a porcelain patio in a garden in Bearsden.
Indian Sandstone is popular and inexpensive. It is now less expensive than many concrete paving types which are designed to look like real stone and we use it a lot. Real stone weathers a lot better than concrete. It is porous enough to require being pressure washed at least once a year, and more often if it is situated in a north facing position where it receives less sunlight and so takes longer to dry out and allowing algae time to grow. But once pressure washed it looks as good as new, though some clients prefer a natural ageing patina to develop.
Here's a photo of a grey Indian sandstone patio with a granite setts spiral inlay in a garden in the process of being built in Glasgow.
Concrete paving comes in various colours, sizes and textures. Some are plain concrete for use under garden sheds or utility areas, and for those uses it is a practical affordable choice. Some of more expensive options are designed to imitate natural stone. Until affordable natural stone started arriving about 15 years ago, we used it a lot ourselves, particularly Marshall's 'Heritage'paving, before we turned to the now affordable natural stone coming in from India and China.
The big disadvantage of using the concrete paving is that after a few years the surface layer wears off, the concrete aggregate starts to show through and it looks scruffy. No matter how much it is cleaned it doesn't look as good as the day it was laid, unlike natural stone. It also requires a lot of cleaning with a pressure washer as it is very porous and goes green with algae easily. And finally, rather ironically, the imitation stone brands are now a good bit more expensive than the natural real stone it is trying to imitate! So for many years now we only use real stone paving, other than for utility bin areas at the sides of a house or under sheds and summerhouses.
Granite paving is a very solid strong type of stone and the porosity lies somewhere between porcelain and sandstone. It doesn't go green very easily as it is so hard, again unless it is in a very damp dark part of your garden. The cost is similar to porcelain. Below is a photo of a set of granite bullnose steps with granite paving in one of our gardens.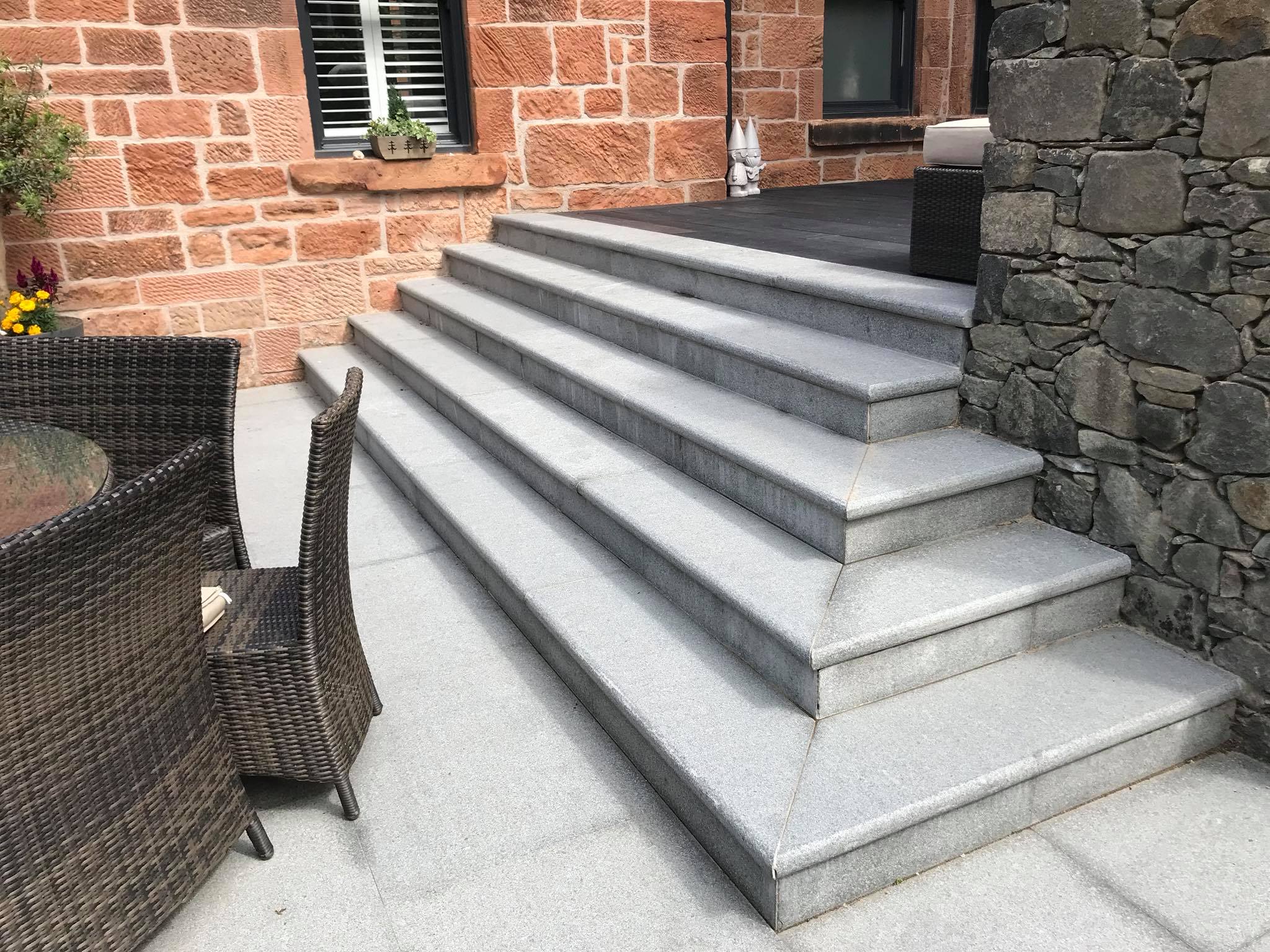 Decking I have written about before, and we are quickly coming to the conclusion that using timber decking is unwise in our climate unless you are willing to put some time into maintaining it, or have someone who can do this for you. We now use composite decking for most of our projects and we recommend Millboard, it looks great and has no maintenance. The only disadvantage is that is very expensive.
Below is a close -up photo of a Millboard deck we constructed in Glasgow to show the realistic wood grain appearance.
Drainage is something that is increasingly necessary, particularly in Glasgow where we are blessed with heavy clay soils. It is a challenge to drain heavy clay soils, and unless done properly can be a wasted expense.
Waterlogged lawns can be helped by ensuring that that all paving is laid with a fall away from the building, and where it runs off towards the lawn, a drain is put in to avoid exasperating drainage issues. This can be a slot drain or a linear grill drain, and even an underground waving coil in pea gravel just below the grass level along the patio edge can help to direct the water away from the grass.
The photo below is a slot drain in smooth sandstone paving. We prefer slot drains as they are less visually obtrusive than the linear grill drains and subtly blend with paving.
Artificial grass has improved greatly over the last years and is gaining rapidly in popularity. It can be a successful solution to waterlogged patchy lawns especially in north facing positions. It is laid on a Type 1 material and sand which allows it to drain freely, and if you have children or dogs it avoids muddy feet coming into the house. Below is a photo of an artificial lawn in a garden we did in Lenzie.
Pots need to be glazed to withstand frost, and unglazed clay pots will quickly disintegrate through the freeze and thaw action of the ice which expands and shatters the clay unless it is glazed and watertight.
Plants need to be carefully chosen to ensure they are hardy in our climate. It is best to buy use plants that have been grown in our climate or have been 'hardened off' to avoid the shock of the cold here and possible death. Many plants in our nurseries have been newly imported from countries such as Italy, and they often don't survive the first winter due to the climate change shock, so it is best to ask the nursery or landscaper you are employing about the source of the plants.
Fencing timber needs to be pressure treated and preferably treated with a coat or two of preservative stain. This looks much better than raw timber which turns grey eventually due to the UV light exposure.
The photo below shows a white contemporary fence in a small garden in Glasgow which has been constructed using pressure treated timber with 2 coats of outdoor timber paint and will last for many years.
Driveways can be constructed using a permeable paver which allows the water to penetrate. This is actually the lawn in England now, and Scotland may follow. The increasing paving over of driveways is causing stress to the storm water drains which are struggling to cope and contributing to flooding. It is often not possible to put in a drain cross the drive along the pavement if there is no drain available for the grill drain to be connected to.
The photo below shows a Tegula permeable paving we did a few months ago.
I am a big fan of gravel driveways which drain beautifully of course. They are good for security too and are much less expensive to install than pavers driveways. They can be constructed to give a firm surface if the gravel isn't too deep and the whole driveway is compacted after construction. However the convenience and ease of using pavers makes them popular and a permeable drive is a good compromise.
I hope this has been helpful ! There's nothing more disheartening than paying money for a new garden and having it look tired after a couple of years or becoming a maintenance burden, when it can be avoided by good design and the right materials at the start.
Email us for a free initial consultation info@terrafirmagardens.com if you are considering getting some work done to your garden and we can help you avoid the pitfalls.